So, five and a half years ago now, I wrote this article: The Plus-Size Barbie Controversy. Back then, I posed the question: "But which came first, the chicken, or the egg? Did generations of children growing up with the implausibly proportioned Barbie learn to love the lean, or is Barbie merely holding up a mirror to the attitudes already prevalent in society, and giving consumers what they want?"
There are other dolls!
Of course, while Mattel is the biggest player in this market, I knew other, more realistically proportioned dolls like Lammily and Lottie existed. They've always been very much on the sidelines, however.
Lammily is supposed to mirror the proportions of an 'average' 19 yer old. She's chunkier than Barbie, for sure, but still seems to be the average proportions of a slim 19 year old, if you ask me.
Lottie is modelled on the proportions of a 9 year old, but with a bigger head to enable more 'hair play'.
I didn't really imagine then that Mattel, makers of Barbie, would ever manufacture a curvier doll. Who would have!?
So what happened next?
Since that time, Lammily seems to have become somewhat a recluse. I couldn't find a UK retailer for her, just a few 'first edition' dolls listed as collectors items on eBay. To be honest, she always seemed duller and less fun than Barbie, with fewer outfits and scenarios. Understandable since she was decades behind in terms of accessories and marketing etc. but there was never any chance of her catching up if she didn't seem to be any fun! Who wants a dull doll to play with?
Lottie, however is definitely still going strong, and seems to be having plenty of fun, with a variety of skin and hair colour options, and lots of accessories and outfits available to facilitate imaginative play, from astronomy, to zoology. My personal favourite has to be 'Activist Lottie' complete with placard and loudhailer!
So, whether Mattel heard the criticisms, or saw the rising success of Lottie who, let's be clear is still a very small player in the market, who knows?
Rise of the Plus Size Barbie – the Fashionistas range!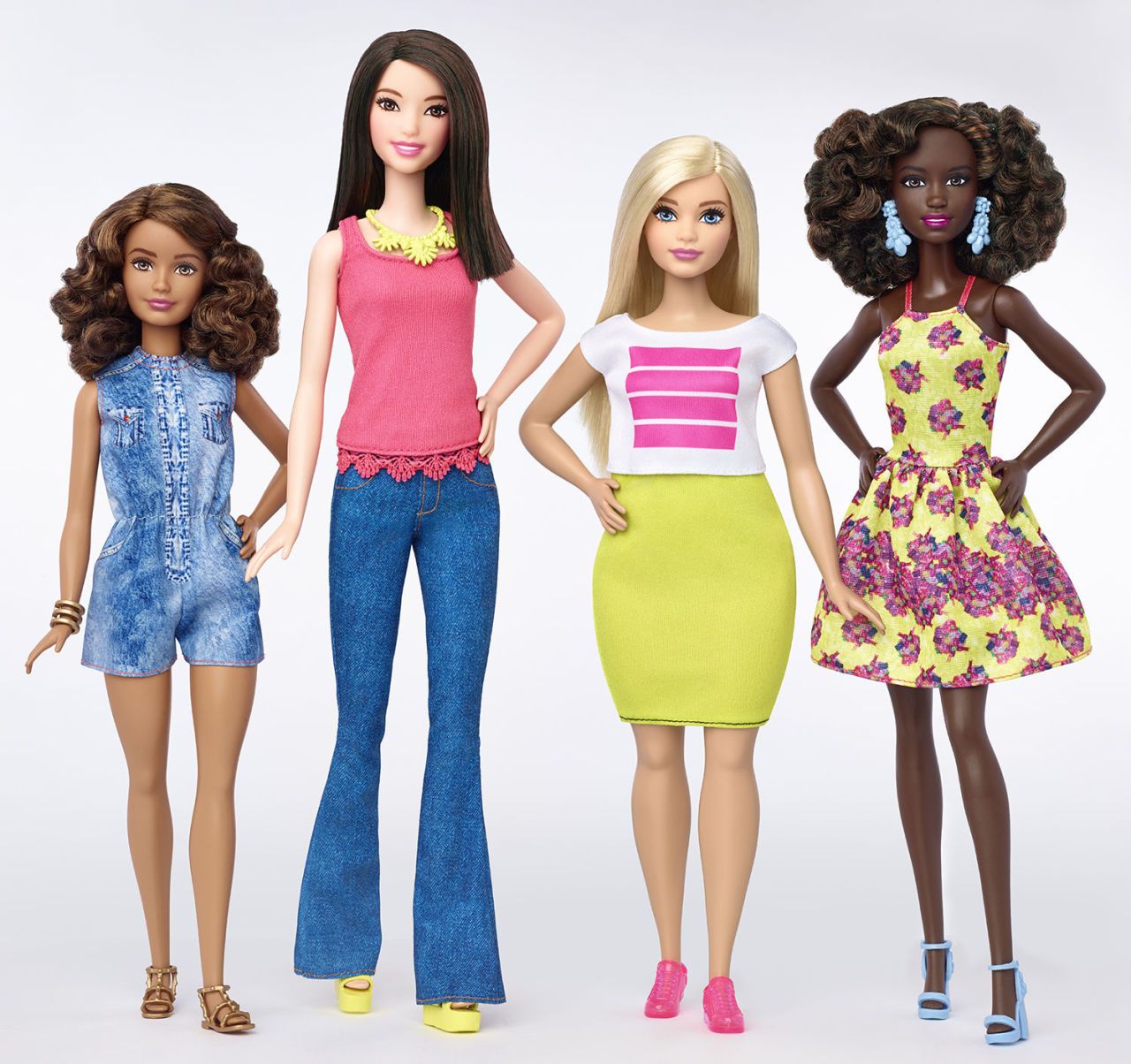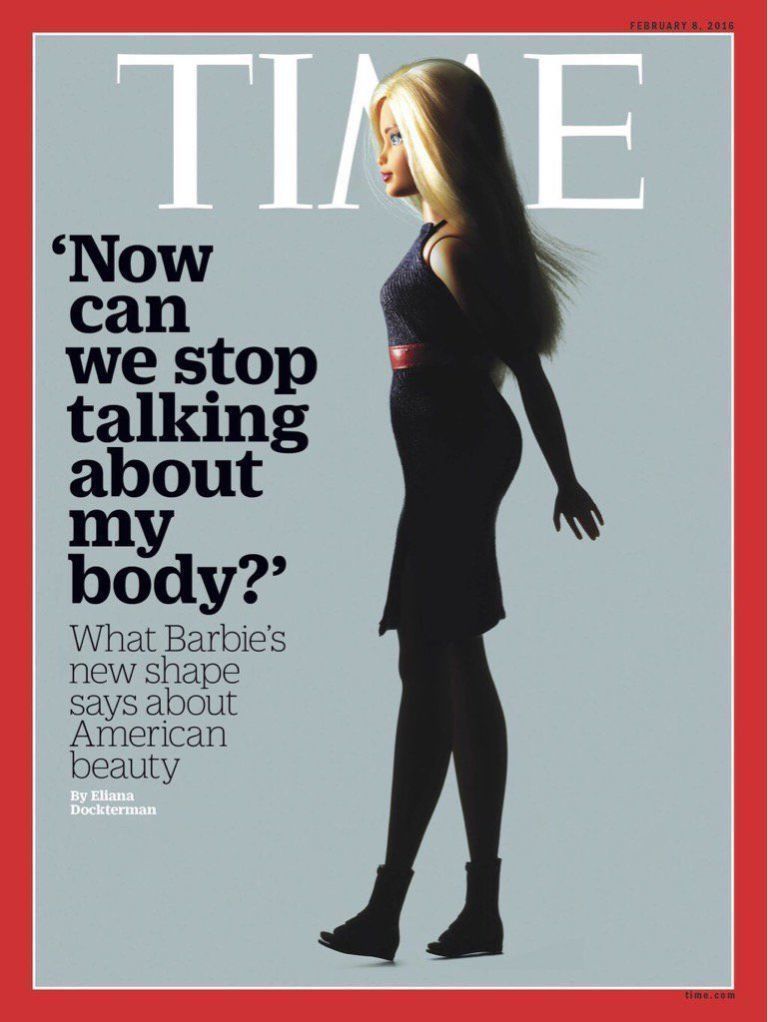 In 2016, Mattel did the unthinkable. They introduced the 'Fashionistas' range of Barbies with different proportions. This seismic shift even got them a Time magazine cover!
'At last!' I thought. Some diversity emerging in the Barbie doll market – now young girls can play Barbie parties where all the attendees aren't just identikit featureless Melania Trumps in different outfits, distinguished only by who's had their toes bitten off, or who's got regrettable marker-pen make up!
But I'd forgotten my earlier prediction. Do girls actually want to play with a new 'curvier' Barbie? Some researchers decided to find out.
Plus Size Barbie – what the researchers discovered
Their article is published in the September 2019 issue of Science Direct. The title probably tells you everything you need to know at a glance:
"You can buy a child a curvy Barbie doll, but you can't make her like it: Young girls' beliefs about Barbie dolls with diverse shapes and sizes by Jennifer Harriger et al"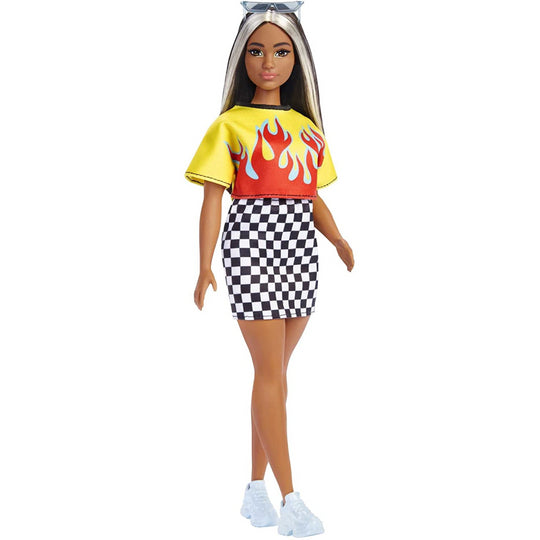 They worked with 84 girls between the ages of 3 and 10, asking them to assign positive and negative traits to the various dolls. Their findings make sad, but not unexpected reading.
Results generally demonstrated greater negative attitudes towards the curvy Barbie doll and more positive attitudes towards dolls with a thinner body size/shape (i.e., original, tall, and petite dolls). Girls identified the curvy Barbie as the doll they least wanted to play with. Additionally, girls with higher levels of body dissatisfaction demonstrated less negative attitudes towards the original doll.
Overall, findings demonstrate a preference for thin bodies and aversion towards larger bodies among young girls. Further, findings suggest that the simple availability of body-diverse dolls may not be a powerful enough intervention to overcome harmful weight attitudes, and highlight the importance of continued efforts to encourage exposure to and acceptance of diverse body shapes and sizes in young children.

Jennifer A.Harriger, Lauren M.Schaefer, J.Kevin Thompson, LiCao
Sigh. maybe I was right in the first place. Perhaps we shouldn't buy them dolls at all and give them better things to play with!?